AWS experts
Make Cloud A Strategic Asset That Drives Meaningful Healthcare Results
Healthcare organizations are moving to AWS and freeing themselves from infrastructure management so they can focus on their core business missions: making healthcare better through technology innovation. Cloudtcity is helping AWS customers harness the full power of the cloud in order to unlock benefits such as faster development cycles, exponential product growth, and continuous compliance and security.
Unlike other MSPs that just provide services, Cloudticity partners with you from day one to ensure your cloud usage increasing matures, continuing to optimize your environment to take full advantage of cloud. As an extension of your own team, we ensure that cloud not only reduces your costs, but also becomes a strategic asset that drives your business' success.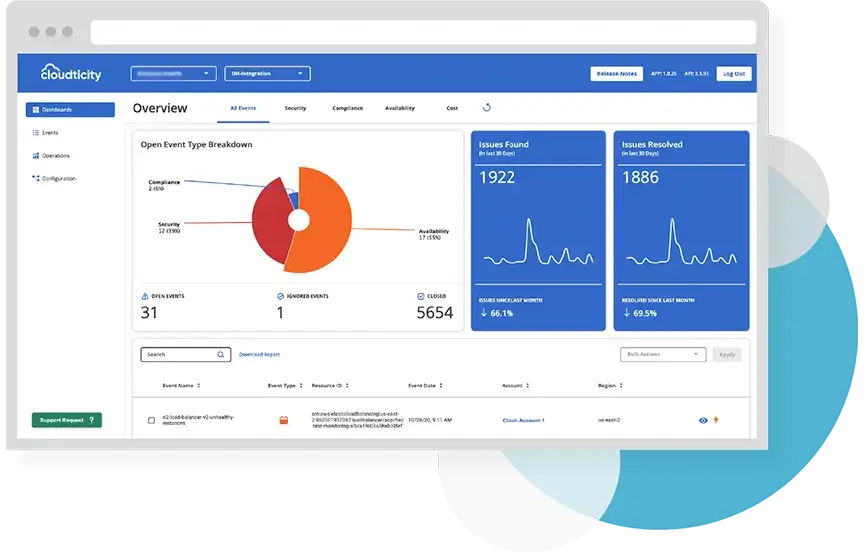 The only healthcare partner to have ever scored 100% on the AWS managed service provider audit, Cloudticity combines innovative automation with deep cloud expertise.
Compliance
1000+ continuous compliance checks mapped to HITRUST CSF controls and HIPAA CFRs
Security
Incident management, machine-learning based anomaly detection, and monitoring mapped to OWASP and CIS
Agility
70% of help desk tickets are resolved within 1 hour
Reliability
Automated remediation of 99% of operational issues coupled with always-on, real-time help desk
Performance
Real-time monitoring of 1000+ AWS CloudWatch data points
Cost
Customers save an average of 30% on cloud spend in the first three months
Oxygen automates HIPAA, HITRUST, NIST, and AWS best practices making it easy for healthcare to innovate fast
Managed Services
Fully automated cloud management including backups, disaster recovery, patching, logging, and analytics, with event and incident management.
Managed Security
Includes intrusion detection and prevention, log monitoring, file integrity monitoring, and real-time malware prevention. 24/7/365 virtual Security Operations Center (vSOC) included as optional add-on.
Managed Compliance
Over 1,000 continuous compliance checks that scan environment according to HITRUST, HIPAA, NIST, and GDPR definition with automated remediation of 99% of compliance deviations. Access real-time compliance dashboards with detailed remediation guidance for any compliance deviations not remediated by automation.
Cloud Cost Optimization
Gain real-time visibility into spend across cloud services. Receive proactive cost-saving recommendations and work with your Technical Account Manager (TAM) to take advantage of serverless, auto scaling, and other cost-saving, cloud-native architectures.
Compare Top MSPs
Find out how Cloudticity Oxygen stacks up against other leading solutions
We've increased our pace of innovation, and we are more able to take risks because we know we have the support to guide us and alert us if something does go wrong. Working with Cloudticity has allowed us to take bigger steps in innovation that we had been talking about previously but didn't have the team power, or the expertise, to address.
Rebecca Rose, Chief Technology Officer, BioInfoExperts
We found other companies that were healthcare and AWS, but Cloudticity seemed to be more focused on healthcare and getting everybody certified.
Rob Visser, Business and Compliance Analyst, Caredove
Cloudticity specifically focuses on AWS and healthcare. At the time we went with them, there were very few folks that specialized in the healthcare industry. That is still important now. Having a depth of knowledge of the healthcare industry and healthcare standards and the healthcare trajectory that AWS is on, is a true differentiator.
Tim Pletcher, Executive Director, MiHin
My team is moving fast. We're not afraid to push the envelope with our technology, but we need to balance being nimble with being security-conscious and Oxygen allows us to do this.
Lisa Schutte, Chief Technology Officer, Kumanu
We chose Cloudticity because of their strong alignment with HITRUST. No other service provider offers 200 inheritable controls, as well as services that extend beyond that to help with recertification.
Scib Ebel, SVP of Technology/CISO, Revel Health
Only Cloudticity combines innovative healthcare-exclusive solutions with specialized expertise in compliance and security.