Focus on Healthcare Innovation, not IT
With HITRUST certified, next-gen managed cloud services for healthcare

Schedule a Free Consultation Now
You may be new to the cloud or you may have launched several production workloads. You may be balancing tight resources, or perhaps security and compliance just isn't your specialty. Wherever you are on your cloud journey, you understand that cloud offers enormous business potential, if you can harness it correctly.
With 12 years of experience helping healthcare companies build, migrate, and manage HIPAA workloads on the public cloud, our team of experts combined with advanced technology can help you:

✔️ Automate compliance for HIPAA, HITRUST, SOC 2, NIST 800-53 and more
✔️ Offload cloud security operations so you can focus on tasks that matter
✔️ Reduce the work needed to achieve HITRUST on AWS or Azure
Schedule a free consultation to learn more today!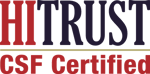 "Partnering with Cloudticity has freed us to focus on developing our application, getting more customers, and driving revenue."
Rob Visser, Compliance Lead, Caredove