Automate Security Through Build, Deploy, and Run
Managing security in developer-driven cloud environments can feel like chasing a moving target. And given that the healthcare sector is subject to more security attacks than any other industry, you need to automate security through the software development lifecycle in order to ensure agility while keeping PHI safe.
Cloudticity Managed Security Services continuously enforce security policies so that vulnerable resources cannot be created. With incident management, automated detection and response, and network traffic analysis, we combine managed CSPM and incident response to ensure that your infrastructure is continuously secure. Give developer teams flexibility, while maintaining complete security oversight.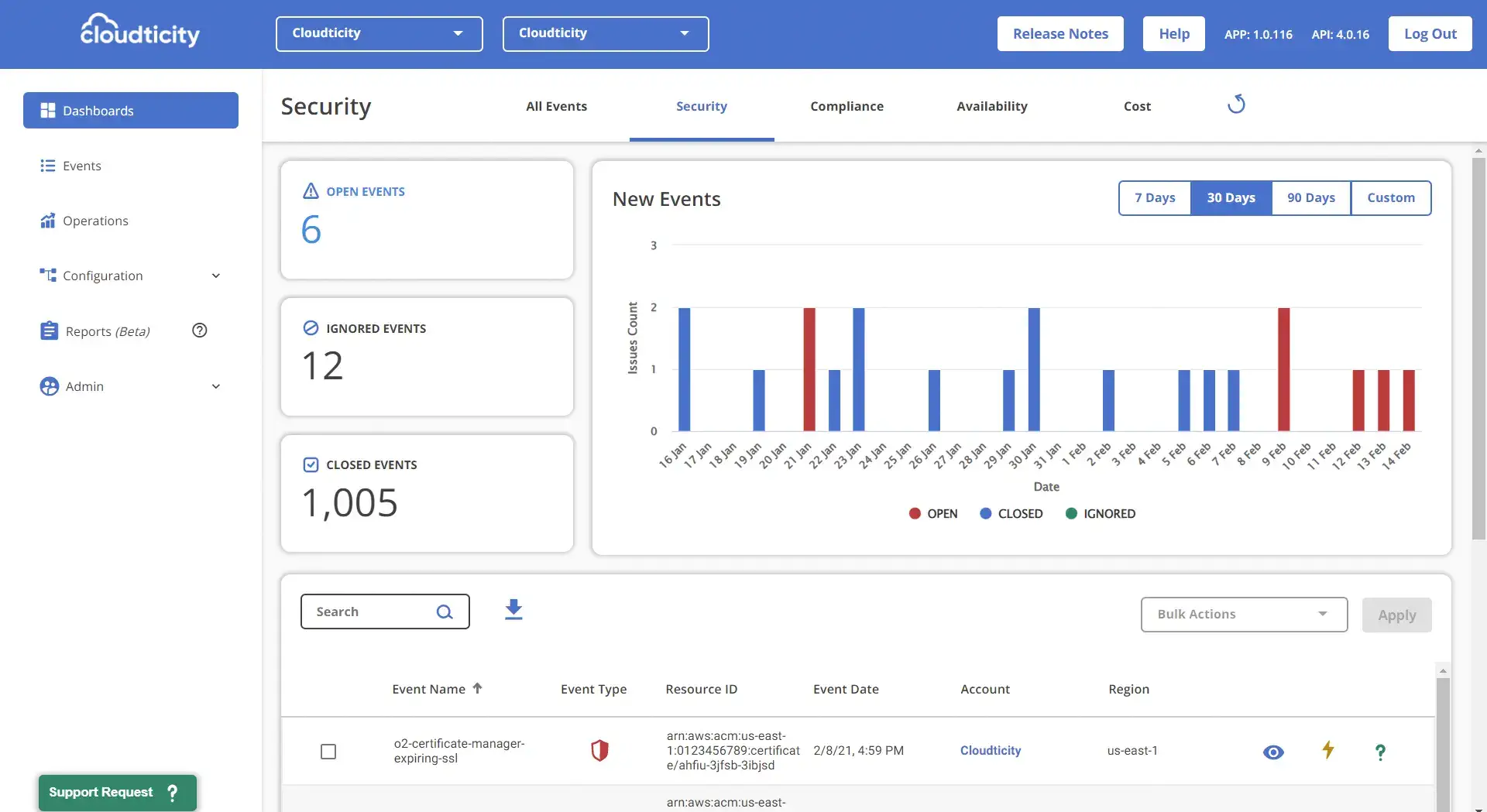 Cloudticity has never had a breach since our founding in 2011.
Detect and Respond
Incident management with automated detection and response to accelerate time to remediation
Hardened Environments
Access to hardened images and pre-vetted infrastructure templates to quickly deploy secure environments
Managed SIEM
Real-time, machine learning-based analysis of security logs to detect and mitigate active threats
Posture Management
Continuous architectural analysis in alignment with HIPAA, HITRUST, CIS, and OWASP to maximize security profiles
SOC
24/7/365 virtual Security Operations Center
Threat Intelligence
Continuous threat intelligence and log analysis to detect and stop
Oxygen automates HIPAA and cloud best practices on AWS and Azure, making it easy for healthcare to innovate fast.
Managed Services
Fully automated cloud management including backups, disaster recovery, patching, logging, and analytics, with event and incident management.
Managed Security
Includes full HITRUST-certified virtual Security Operations Center (vSOC), including intrusion detection and prevention, log monitoring, file integrity monitoring, and real-time malware prevention.
Managed Compliance
Over 1,000 continuous compliance checks that scan environment according to HITRUST, HIPAA, NIST, and GDPR definition with automated remediation of 99% of compliance deviations. Access real-time compliance dashboards with detailed remediation guidance for any compliance deviations not remediated by automation.
Cloud Cost Optimization
Gain real-time visibility into spend across cloud services. Receive proactive cost-saving recommendations and work with your Technical Account Manager (TAM) to take advantage of serverless, auto scaling, and other cost-saving, cloud-native architectures.
Compare Top MSPs
Find out how Cloudticity Oxygen stacks up against other leading solutions
Cloudticity is a fundamental part of our operations and processes. Previously, when we had a performance problem, it took weeks to resolve after submitting a ticket. Now, we simply start a chat or video conference in under 5 minutes and a problem gets resolved in less than 30 minutes.
Tim Berezny, Chief Technology Officer, Caredove
My team is moving fast. We're not afraid to push the envelope with our technology, but we need to balance being nimble with being security-conscious and Oxygen allows us to do this.
Lisa Schutte, Chief Technology Officer, Kumanu
Only Cloudticity combines innovative healthcare-exclusive solutions with specialized expertise in compliance and security.