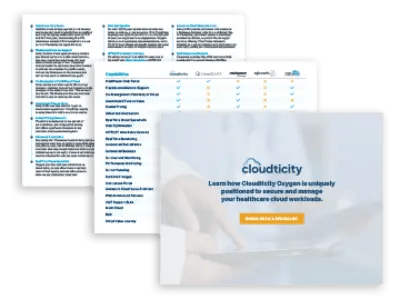 Compare Top MSPs
Learn how Cloudticity compares to the competition.

Get The Competitive Guide
Most healthcare organizations choose to work with an MSP or other third party for their cloud strategy, and there is no shortage of potential partners. And while most will check the boxes and provide a help desk and ticketing system, many fail to deliver cloud optimization in all aspects of cloud strategy, from security and compliance to cost optimization, performance excellence and strategic planning support.
Download the competitive guide to see how Cloudticity Oxygen, our proprietary managed cloud solution, stacks up against other managed cloud solutions on the market.
"We are now able to tap into the full power of our data and will be able to provide systematic, de identified trend reporting that enables our customers to be better at their jobs and deliver better care."
Chris DeSocio - Director of Operations, Privacy, and Security - HealtHIE Nevada