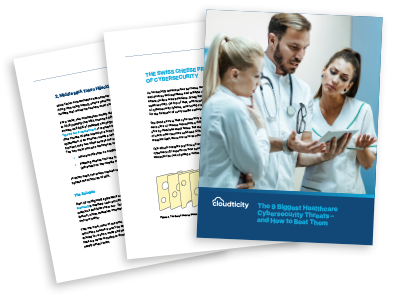 The Biggest 9 Healthcare Cybersecurity Threats of 2023
And how to effectively mitigate them.

Download to Learn:
✔️ The 9 most common threats plaguing healthcare.
✔️ Best practices for mitigating each one.
✔️ How to minimize risk in a high risk industry.
✔️ Tool and processes recommendations.
✔️ How to use compliance as the foundation for security.
Protect Your Healthcare Data Now!
As healthcare IT environments get more complex hackers are finding more opportunities to exploit weak security.
Additionally, an overwhelming majority of cyber attacks target healthcare over any other industry.
Are you taking the steps necessary to mitigate the threat of cyber attacks in 2023? In this eBook, you'll learn about the top nine most prominent threats plaguing the industry, including:
✔️ Middle MFA Token Hijacking
✔️ Compromised Insiders
✔️ Ransomeware
✔️ Cryptojacking
And learn best practices for mitigating each of them. Download for FREE today!
We chose Cloudticity because of their strong alignment with HITRUST. No other service provider offers 200 inheritable controls, as well as services that extend beyond that to help with recertification. In addition, the Oxygen™ platform gives us continuous visibility into our compliance posture and automatically remediates issues, removing any uncertainty in regards to our HITRUST compliance in AWS.
Scib Ebel, CISO, Revel Health