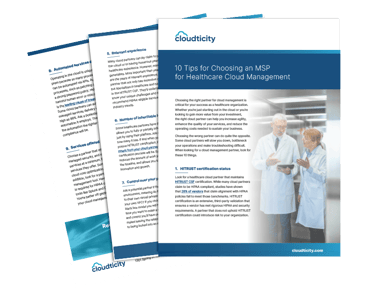 Choose the Right Healthcare Cloud Partner
Ten things to look for in an MSP for healthcare IT.
Download the Tip Sheet to learn:

✔️ 10 things to ask a potential partner.

✔️

What red flags to look out for.

✔️ What terms should be non negotiable.
Choose the Right MSP for Your Business
Choosing the right healthcare cloud managed services provider (MSP) is critical for the success of your business. The right partner can increase your agility, simplify your strategy, and allow you to focus more time on your core business.
Choosing the wrong partner can do quite the opposite. The wrong cloud partner could slow you down, bottleneck your initiatives, make troubleshooting difficult, and even cause security and compliance blind spots.
Download the FREE tip sheet to learn how to vet a potential partner so you can choose the right one.
"Partnering with Cloudticity has freed us to focus on developing our application and getting more customers."
Rob Visser, Compliance Analyst, Caredove