Get On The Fast Track To HITRUST
Meet With An Expert And Map Your Path To Certification

Schedule A HITRUST Consultation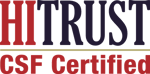 HITRUST certification is becoming critical for organizations in and around healthcare. Many payers and providers now require vendors to attain certification. And because HITRUST keeps pace with HIPAA changes, certification allows you to successfully manage evolving security and compliance requirements.

But the road to HITRUST is challenging. The certification process can be long, expensive, and distracting, and tie up valuable resources. Leveraging our expertise and innovative Oxygen platform, you can accelerate the HITRUST process, reduce the cost, and free your team to focus on innovation and growth.

Navigating HITRUST requires expert guidance from an experienced cloud partner. Schedule a consultation with our HITRUST experts.

During the call, we'll:
✓ Review your current security posture
✓ Explain the challenges of HITRUST and how we accelerate the process
✓ Lay out a detailed road map to HITRUST certification

HITRUST gives both you and your customers confidence that you can prevent a devastating breach. Schedule a talk and get on the fast track to HITRUST.

Plenty of people talk about the possibilities of what automation and the cloud can do. Cloudticity is actually doing it. They are helping Verge Health automate and improve how we operate and the ways our tech teams work, which is making us a more innovative partner to our hospital customers, and ultimately, their patients.
Chief Solutions Officer, Verge Health