Move to the Forefront of Healthcare Innovation
Speak With A Healthcare Cloud Expert Today

Schedule a Free Consultation Now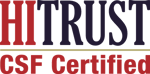 From accelerating software development to maintaining continuous compliance – the cloud moves you to the forefront of healthcare innovation.
Whether you're just starting out in the cloud or you're looking to gain more value from your investment, Cloudticity HIPAA-compliant, HITRUST Certified AWS and Azure managed solutions – combined with deep healthcare expertise – can help your healthcare business meet technical and clinical goals.
Schedule a consultation with a healthcare cloud expert. During the call, we'll discuss:
🔹 Your current and future IT, security, and compliance needs
🔹 Your cloud environment and opportunities for optimization
🔹 How managed cloud for healthcare can increase your agility, security, compliance, and reliability.
Speak with a healthcare cloud expert today.

Plenty of people talk about the possibilities of what automation and the cloud can do. Cloudticity is actually doing it. They are helping Verge Health automate and improve how we operate and the ways our tech teams work, which is making us a more innovative partner to our hospital customers, and ultimately, their patients.
Chief Solutions Officer, Verge Health