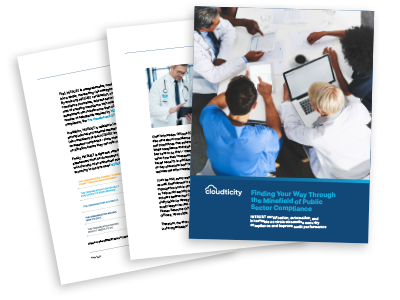 Finding Your Way Through the Minefield of Public Sector Compliance
Three ways to simplify management of multiple regulations

Learn How to Get Compliant
For Public Health organizations and Public Sector partners, bringing on new customers often means bringing on a slew of new compliance requirements that your team has to manage. From FedRAMP, NIST and FISMA to HIPAA, HITRUST and FIPS, every partner has their own frameworks that they care about, adding complexity for your team to manage.
How can businesses in the Public Sector simplify the management of multiple regulations in order to reduce the work needed to stay compliant? Download the FREE white paper to learn:
✔️ An overview of top Public Sector regulations
✔️ A framework for continuous compliance
✔️ Three ways to make compliance easier
Download for free today!
Cloudticity has made it easier for us to grow and expand and rely on cloud technologies to support our business goals. Without that support it would've been much more difficult for us to do so.
Michael Daddy, VP of Technology, Apex Health Solutions