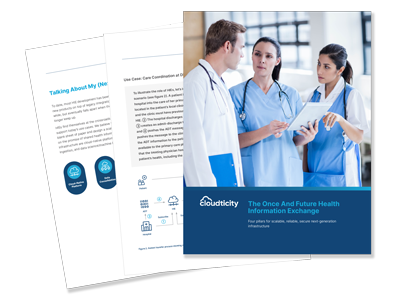 How to Modernize Your Health Information Exchange
Four pillars for scalable, reliable, secure next-generation infrastructure

Health information exchange (HIE) constitutes a great start toward full interoperability, but with the magnitude and diversity of digital data in today's healthcare ecosystem, more must be done to meet the interoperability needs of the present and future.
Legacy architectures simply cannot support today's use cases and the time is ripe to start over with a blank sheet of paper; to design a scalable, secure infrastructure that can deliver on the promise of shared health information.
Drawing on our years of experience building next-gen HIEs, we've identified four pillars that lay the foundation for HIE modernization:
✔️ Pillar 1: cloud-native platform
✔️ Pillar 2: data consolidation
✔️ Pillar 3: high-volume data ingestion
✔️ Pillar 4: data science and machine learning
Read the white paper to learn how to modernize your HIE infrastructure.
"We are now able to tap into the full power of our data and will be able to provide systematic, de identified trend reporting that enables our customers to be better at their jobs and deliver better care."
Chris DeSocio - Director of Operations, Privacy, and Security - HealtHIE Nevada