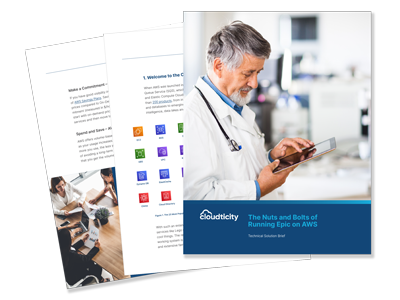 Epic on AWS Technical Guide
Architecture, implementation, and best practices.

Epic on AWS Technical Guide
Moving Epic to AWS but not sure how to get started?
This technical solution brief is intended for technical decision-makers and influencers, including system architects and planners as well as operations and engineering staff who support and run the infrastructure for the Epic application.
The purpose of this guide is to show how Epic runs on AWS and introduce key concepts that will help you better understand the issues that you will face when moving Epic from on-premises to AWS, such as:
✔️ Stack architecture
✔️ Architecture best practices
✔️ Disaster recovery

Download the Epic on AWS Technical Guide and get started today.

"We are now able to tap into the full power of our data and will be able to provide systematic, de identified trend reporting that enables our customers to be better at their jobs and deliver better care."
Chris DeSocio - Director of Operations, Privacy, and Security - HealtHIE Nevada