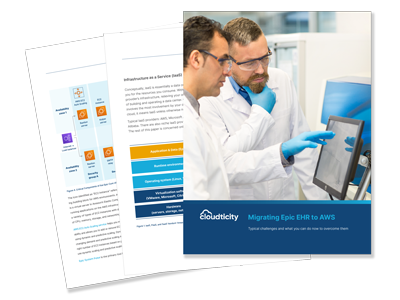 These Five Things Are in the Way of Your Epic to AWS Migration
Preparing for challenges and overcoming them.

Overcome Epic to AWS Challenges
You're building the business case for Epic to AWS. You're gathering information, engaging with AWS, and starting to sketch out a plan.
But just as important as knowing what to do is understanding what challenges may be in your way. Most businesses find they have underestimated the level of technical and business challenges that come up during the process, which can put a damper on the project success.
This white paper details five things that are standing in your way of success, whether you know it or not, including:
🔹 Potential security holes in the cloud
🔹 The need for interoperability
🔹 The cloud skills gap
🔹 Cultural resistance
🔹 Managing and forecasting expenses
Get in front of key Epic to AWS challenges today.
"We're that we can process the 12 million patient health information messages we receive every week, and accommodate a growing number of messages, because we can use AWS to easily scale our network to support higher data volumes."
Tim Pletcher, Executive Director, MiHIN