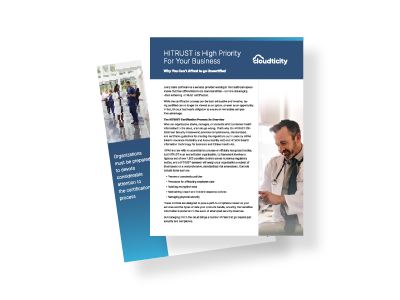 HITRUST Is An Investment With Immense ROI
Learn why you can't afford to go uncertified in healthcare.

What You'll Learn:
✔️ Why HITRUST matters.
✔️ Understand if it's right for you.
✔️ What ROI you can expect.
✔️ Common challenges along the way.
✔️ How to have a speedy, efficient journey.
Understand HITRUST and Get Confident!
With a growing number of providers and payers requiring their vendors to be HITRUST certified, many healthcare SaaS companies are looking to HITRUST as a business differentiator.
However, it can be difficult to justify the extensive time and resource investment required for HITRUST. Is it really worth it?
According to our experts, yes. HITRUST is high priority for your business. Read this eGuide to learn why you can't afford to go uncertified. You'll gain the confidence you need to make a business case and proceed.
Download for FREE today.
Plenty of people talk about the possibilities of what automation and the cloud can do. Cloudticity is actually doing it. They are helping Verge Health automate and improve how we operate and the ways our tech teams work, which is making us a more innovative partner to our hospital customers, and ultimately, their patients.
Chief Solutions Officer, Verge Health