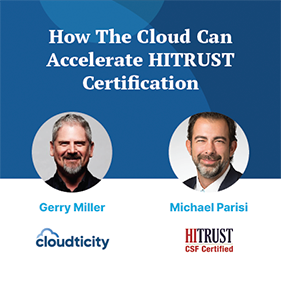 Reduce The Cost, Complexity, And Timeline Of HITRUST
Learn How In This On-Demand Webinar

HITRUST certification has become critical for the success of healthcare partners. But while it offers incredible advantages, the road to HITRUST isn't without challenges.

In this on-demand webinar, How The Cloud Can Accelerate HITRUST Certification, Cloudticity's Gerry Miller and HITRUST's Mike Parisi explore the benefits of HITRUST and how the cloud can reduce the cost, complexity, and timeline of certification. You'll learn:
✓ Why you need to be HITRUST certified
✓ The benefits of HITRUST to you and your clients
✓ The process of becoming HITRUST certified, including the challenges you'll encounter
✓ How the right cloud partner can accelerate the process and free you to focus on what you do best
Watch now to learn everything you need to know about HITRUST and choosing the right cloud partner to guide certification.
The Oxygen™ platform gives us continuous visibility into our compliance posture and automatically remediates issues, removing any uncertainty in regards to our HITRUST compliance in AWS.
Scib Ebel, CISO, Revel Health