FHIR-Enabled Data Integration & Analytics
Adopt FHIR fast with Cloudticity's cloud-native data interoperability solution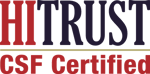 Adopting FHIR in a timely manner can seem like a daunting task, but it doesn't have to be. With Cloudticity Healthcare DataHub™, a cloud-native, FHIR-enabled integration and analytics solution, you can:
- Become FHIR-ready in days instead of months
- Aggregate all your data in one consolidated data store to meet 21CA requirements
- Automate data transformation to focus on analysis
All while avoiding expensive capital investments in hardware and integration engines.
Speak with a healthcare cloud expert to learn more today!

Plenty of people talk about the possibilities of what automation and the cloud can do. Cloudticity is actually doing it. They are helping Verge Health automate and improve how we operate and the ways our tech teams work, which is making us a more innovative partner to our hospital customers, and ultimately, their patients.
Chief Solutions Officer, Verge Health