FHIR-Enabled Data Integration & Interoperability
Gain a Holistic View of the Patient and Identify Trends

Schedule a Free Consultation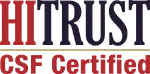 If your data is fragmented, tedious to transform, and difficult to integrate, then you must be in healthcare. The good news is the cloud changes everything for healthcare.
With Cloudticity Healthcare DataHub™, an end-to-end, integration, interoperability, and analytics solution you can:
- Aggregate all your data in one consolidated data store
- Automate data transformation to focus on analysis
- Integrate historical and real-time health data in varied formats to identify trends
With our secure, cloud-based solution you can finally gain FHIR-enabled access to your most relevant health data. Speak with a healthcare cloud expert to learn more.
"We are now able to tap into the full power of our data and will be able to provide systematic, de identified trend reporting that enables our customers to be better at their jobs and deliver better care."
Chris DeSocio, Director of Operations/Privacy and Security Officer, HealtHIE Nevada