FHIR-Enabled Data Integration & Analytics
Cloud-based data interoperability for fast FHIR integration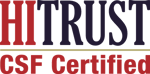 If your health data is fragmented, tedious to transform, and difficult to integrate, then you're not alone. The good news is the cloud changes everything for healthcare.
With Cloudticity Healthcare DataHub™, an end-to-end, cloud-native healthcare data analytics service, you can:
- Aggregate all your data in one consolidated data store
- Improve speed to value by automating data transformation
- View all your data in a common language on a single dashboard
With our fully managed, secure, HITRUST-certified solution, you can focus on meaningful extraction instead of ingestion and parsing.
Speak with a healthcare cloud expert to learn more.

Plenty of people talk about the possibilities of what automation and the cloud can do. Cloudticity is actually doing it. They are helping Verge Health automate and improve how we operate and the ways our tech teams work, which is making us a more innovative partner to our hospital customers, and ultimately, their patients.
Chief Solutions Officer, Verge Health