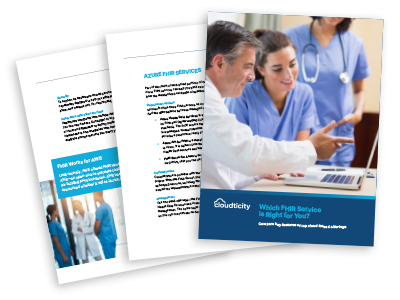 Which FHIR Service is Right for You?
Compare key features of top cloud-based offerings

Cloud-based FHIR services can help your organization avoid the costs and complexity of managing physical infrastructure, building APIs, or even creating components of new applications.

But, with so many options available, which service is right for you? In this eBook, we'll compare offerings from:



✔️ Microsoft Azure
✔️ Google Cloud
✔️ AWS
✔️ Smile Digital Health
✔️ Innovacer
✔️ Health Samurai

We'll also highlight areas where you might need to supplement those offerings to make the most of the cloud.
Download the eBook for free today!
Cloudticity has made it easier for us to grow and expand and rely on cloud technologies to support our business goals. Without that support it would've been much more difficult for us to do so.
Michael Daddy, VP of Technology, Apex Health Solutions