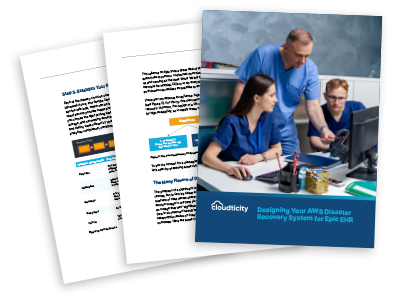 Designing Your Epic EHR Disaster Recovery on AWS
Reduce costs and increase business continuity with modern DR for EHR

For the hospitals and clinics that use Epic, reliable access to the Epic EHR is an essential element in care delivery. Unfortunately for hospital IT, this creates a great deal of pressure to prevent unplanned downtime. The best way to do this is to move your Epic DR environment to AWS.
Download the FREE white paper to learn:
- Why Epic DR on AWS?
- The three Epic DR design options on AWS
- How to design your Epic DR system on AWS from scratch
Download for free today!
Cloudticity has made it easier for us to grow and expand and rely on cloud technologies to support our business goals. Without that support it would've been much more difficult for us to do so.
Michael Daddy, VP of Technology, Apex Health Solutions