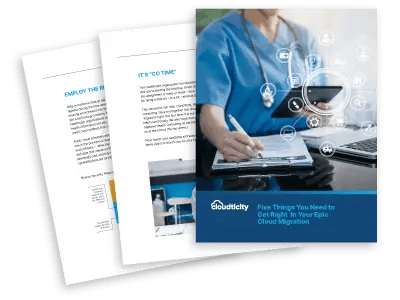 Five Things You Need to Get Right for Epic on AWS
Complete, actionable Guide for planning, executing, and succeeding

Get the Epic to AWS Action Plan!
Your healthcare organization has decided to migrate Epic to AWS – and you're leading the initiative. Given the importance of Epic to the business, you can be forgiven for being a little bit – or a lot – anxious about how you're going to pull it off.
This document can help. Cloudticity, along with Sapphire Health Consulting, has put together this Guide which consists of five things you need to get right to pull this off, including:
✔️ Assembling the right team
✔️ Building the right migration plan
✔️ Employing the right data protection
✔️ Tracking the right metrics
✔️ Choosing the right partners


Download this actionable Guide to started with Epic to AWS today!
Plenty of people talk about the possibilities of what automation and the cloud can do. Cloudticity is actually doing it. They are helping Verge Health automate and improve how we operate and the ways our tech teams work, which is making us a more innovative partner to our hospital customers, and ultimately, their patients.
Chief Solutions Officer, Verge Health