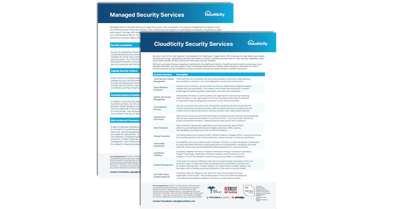 Secure Your Healthcare Cloud
With Cloudticity managed cloud security services for healthcare

Learn About the Security Solution
When healthcare organizations make decisions around IT infrastructure, cloud expansion, and sensitive PHI data, security is one of the most important factors to consider. Rather than taking on the risk alone, many prefer to leverage a partner who knows how to build secure, compliant resources in the cloud – and most importantly, will sign a Business Associates Agreement (BAA) and shoulder some of the risk.
Download the Security Services solution brief to see how Cloudticity uses best-of-breed cloud-native services, third-party tools, and managed services to create and maintain secure cloud environments for healthcare.
Get the solution brief now!
"We are now able to tap into the full power of our data and will be able to provide systematic, de identified trend reporting that enables our customers to be better at their jobs and deliver better care."
Chris DeSocio - Director of Operations, Privacy, and Security - HealtHIE Nevada