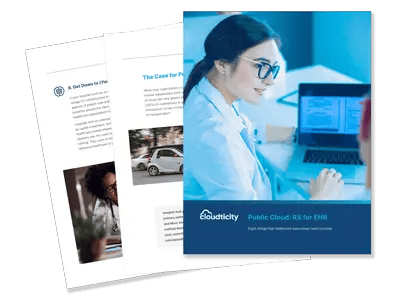 The Business Case For Public Cloud in Healthcare
Eight things healthcare executives need to know

Electronic health records (EHRs) are the lifeblood of hospitals and other healthcare providers. Therefore, healthcare executives can be forgiven for questioning something as potentially disruptive as moving their EHR system to the cloud. To make an informed decision, they need as much information as possible about the pros and cons of the move.
This eBook focuses on the inherent advantages of the cloud over on-premises data centers, including:
✔️ A pay-as-you-go cost model that allows you to align operating expenses with demand
✔️ The ability to continuously adopt the latest and greatest technologies while avoiding large capital investments
✔️ A shared security model that offers stronger security and also reduces the security burden on your organization and staff
Download the eBook to learn eight advantages of moving your EHR to the public cloud.
"Partnering with Cloudticity has freed us to focus on developing our application and getting more customers."
Rob Visser, Compliance Analyst, Caredove