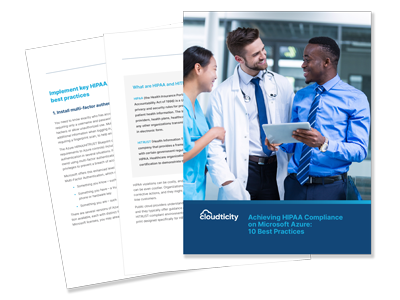 Achieve HIPAA Compliance On Microsoft Azure
Learn 10 best practices to improve compliance of your Azure environment

You've moved your healthcare application to Microsoft Azure and you're breathing a sigh of relief because Microsoft has passed rigorous HIPAA audits. Well, you're just getting started. There's still lots of work to be done.
Since security and compliance in Azure cloud is a shared responsibility with Microsoft, you won't be compliant unless you hold up your end of the deal. You'll need to take steps to ensure that your PHI is secure in the cloud, which includes designing, building, and managing a compliant environment and policies.
This eBook offers some practical tips we've collected from our healthcare cloud experts who have built and managed dozens of HIPAA-compliant environments in Azure.
Download the eBook to learn more.
"Partnering with Cloudticity has freed us to focus on developing our application and getting more customers."
Rob Visser, Compliance Analyst, Caredove