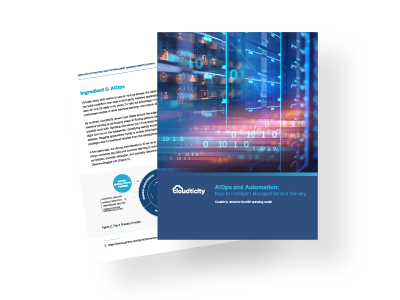 The Importance of AIOps in Managed Services
Learn why you should choose an MSP that uses AIOps.

Learn why AIOps matters for your MSP
Human response is far too slow for today's cyberthreats – the average time it takes for ransomware to begin encrypting your files after execution is only three seconds.
Next-gen MSPs understand that. They're embracing AIOps as a way to tighten security for their clients. But not all MSPs have made it to the ballgame. Traditional MSPs still rely on humans to manage and deliver most services. This poses dangers, given that most cloud security failures are due to human error.
Read this white paper to learn:
- What is AIOps and why you should care
- Why the traditional MSP operating model poses risks to clients
- How Cloudticity automates managed services delivery with AIOps
Learn why you should care about AIOps in managed services.
Plenty of people talk about the possibilities of what automation and the cloud can do. Cloudticity is actually doing it. They are helping Verge Health automate and improve how we operate and the ways our tech teams work, which is making us a more innovative partner to our hospital customers, and ultimately, their patients.
Chief Solutions Officer, Verge Health