FHIR
Adopt FHIR In Days Instead Of Months
By adopting the new healthcare data exchange standard, providers can more efficiently share patient data, payers can drive down costs and improve outcomes, and patients can take greater control of their health. For healthcare organizations, this means delivering more value to your members. Unfortunately, adopting the FHIR standard can be challenging. Cloudticity Healthcare DataHub™, a FHIR-enabled data integration and analytics solution, can help your organization adopt FHIR in days instead of months. Improve the quality of your services, and empower better healthcare outcomes – all while meeting stringent compliance requirements.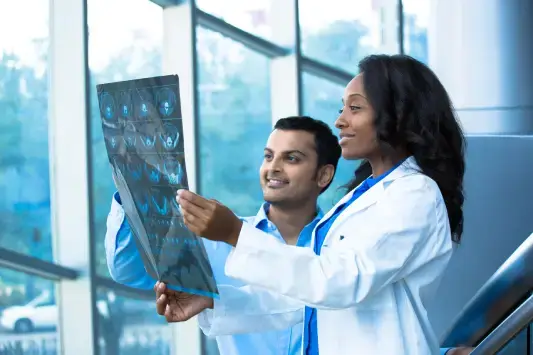 Cloudticity Healthcare DataHub was the world's first end-to-end interoperability solution built 100% native on the public cloud.
Maximize Data Agility
Free yourself from manual data management and focus on extracting value
Maintain Compliance
Continuous HIPAA, HITRUST, and Meaningful Use Compliance
Improve Data Interoperability
Extract deeper insights from your data and improve business and clinical decisions
Reduce Costs
Scale with demand and only pay for what you use
Fully Managed Environment
Infrastructure requirements managed by Cloudticity, freeing you to focus on delivering value
Empower Your Community
Gain relevant, real-time insights to support your members and region
The knowledge and experience that Cloudticity brings to the table has saved us countless hours of research and given us confidence that, as our cloud journey progresses, we have a partner that can assist us to reach our goals the whole way through. That's intangible. You can't pay for that.
Chris DeSocio, Director of Operations/Privacy and Security Officer, HealtHIE Nevada
We're that we can process the 12 million patient health information messages we receive every week, and accommodate a growing number of messages, because we can use AWS to easily scale our network to support higher data volumes.
Tim Pletcher, Executive Director, MiHIN
We have freed up our internal teams from traditional data-center management so they can focus more on value-creating activities.
Cloudticity Healthcare DataHub is an end-to-end, next-gen healthcare data analytics solution purpose-built to transform large scales of health data into actionable insights. The first of it's kind, the HITRUST-certified solution is cloud-native, fully managed, and secured by Cloudticity Oxygen.
Only Cloudticity combines innovative healthcare-exclusive solutions with specialized expertise in compliance and security.